ROASTED ASPARAGUS WITH BALSAMIC, GORGONZOLA AND WALNUTS
yield: 4 SERVINGS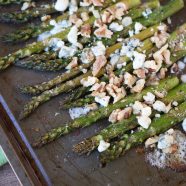 INGREDIENTS:
1 bunch asparagus, trimmed and rinsed
1 tablespoon olive oil
coarse salt and fresh ground pepper
1 tablespoon good balsamic vinegar
1 oz (about 2 tablespoons) crumbled gorgonzola cheese
1/8 cup chopped walnuts
DIRECTIONS:
Preheat oven to 450 degrees. Place asparagus on a baking sheet. Drizzle olive oil over asparagus, then using your hands give them a quick toss to spread the oil. Sprinkle salt and pepper.
Cook for about 12 minutes or until slightly browned.
Take out baking sheet and drizzle balsamic vinegar over asparagus. Top with gorgonzola and walnuts then place back into oven. Set oven to broiler and broil for 2-4 minutes (watch carefully!) until cheese starts to bubble. Serve immediately.
---
This delicious recipe brought to you by AGGIE'S KITCHEN
https://aggieskitchen.com/roasted-asparagus-balsamic-gorgonzola-walnuts/