Forthcoming Eco-day
---
26th July 2018: International Day for the conservation of the Mangrove Ecosystem



Coastal mangroves are among the most threatened ecosystems on earth. Current estimates indicate that up to 67% of mangroves have been lost to date, and nearly all unprotected mangroves could perish over the next 100 years.

On the International Day for the Conservation of the Mangrove Ecosystems, UNESCO's is decided to taking forward the 2030 Agenda for Sustainable Development means forging new sustainable pathways to development in harmony with the earth by preserving all mangrove ecosystems.

----------------------------------------------------------------------------------------
UPCOMING EVENTS
Navi Mumbai
8 July 2018: Forest Walk at Green Valley Park
On the occasion of Van Mahotsav Week, that is celebrated in India from July 1 to 7, iNaturewatch Foundation has organized a 'Forest Walk' for you to experience this liveliness of a forest.
So, join us to witness the thriving monsoon flora and fauna before it's all gone with the rain!



DETAILS
Date: Sunday, 8th July 2018
Time: 7.30- 9.30 am
Programme Fee: Rs. 350/- (Register before 6th July and get Rs. 50/- off)
Venue: Green Valley Park, A/, 4, Lane Number 7, Sector 9, CBD Belapur, Navi Mumbai, Maharashtra 400614, India
Meeting point: Entrance of Green Valley Park
How to reach: Board a train to Belapur Railway Station and take an auto to the venue.
Click here to register for the event.
---------------------------------------------------------------------------------------
14-15 July 2018: Mothing at Mumbai and Bangalore
ABOUT
We are celebrating 'National Moth Week' in Karnala Bird Sanctuary. The National Moth Week is being held worldwide, during the last full week of July. However, we are celebrating it early as the new moon happens to be on 13 July and we didn't want to miss this opportunity as moths throng in large numbers during new moon nights. This is an unique and first time event happening in Navi Mumbai, if you wish to be a citizen scientist and want to learn about these night cousins of butterflies, this is the only opportunity. Because nobody else could the best to explain the mysterious world of moths than Dr. Shubhalaxmi- India's first moth lady and author of India's first field guide on Indian Moths.

Details for Karnala Mothing Camp
Campsite: Yusuf Meherally Centre, Tara, Mumbai-Goa Road Taluka Panvel, Dist: Raigad, Karnala, Maharashtra 410221. ( for more details visit http://www.yusufmeherally.org/)
Date: 14-15 July 2016
Time: 3.00 p.m. (Day 1) - 10.00 a.m. (Day 2)
Group size: 15 persons
Meeting point: Entrance Gate of Yusuf Meherally Centre
Group Leader: Dr. V.Shubhalaxmi, Founder & Managing
Click here to register for the event.

Details for Ramanagaram Mothing Camp
Campsite: Adventure Nest, Behind Gousia Engg College, Ramanagara, Hallimala, Karnataka 562159 (for more details visit
http://www.adventurenest.com/)
Date: 14-15 July 2016
Time: 3.00 p.m. (Day 1) - 10.00 a.m. (Day 2)
Group size: 25 Participants.
Meeting point: Entrance Gate of Adventure Nest
Group Leaders: Mr. Madhusudhan Shukla, Camp leader, Mr. Rachit Singh (Moth expert).
Click here
to register for the event.
------------------------------------------------------------------------------------
Nature Education For Schools and Colleges in Mumbai and Navi Mumbai:
Nature education is best way to spread love for nature and nature-based outdoor learning is the best way to educate students. iNaturewatch Foundation conducts exclusively for schools students and college students where they can explore the flora and fauna in and around Navi Mumbai.
Know more
about 'Nature Walk for School'
Know more
about 'Nature Walk for Colleges'
Other Updates

PROGRAMME SUBSCRIPTION PLANS
We are happy to launch our Programme Subscription Plans. You may choose regular, couple or family plans and also opt for annual/quarterly and six-monthly plans. The best part of these plans is that they are transferable as well as could be discontinued when you wish. Click on the picture NOW.
Free Resources
Download iNaturewatch Mobile Apps

Educational Resources

Species of the Month
Atlas Moth Caterpillar
This photo was clicked by Mr. Varun N H, during the event 'Monsoon Walk at Muthurayanabetta, Bangalore' on 17 June 018. Atlas Moth is the largest moth in the world in terms of wingspan. The caterpillar stage lasts around one month, and as a pupa, it can remain as long as 8 to 9 months. After emerging from the cocoon it has hardly a week or two to live as an adult as they don't feed. The Atlas moth is found only in the Southeast Asia.

Send us your pictures taken during our trail/camp and the best photo stands chance to be featured in the next issue of iNaturewatch Foundation's newsletter.
PAST EVENTS
Navi Mumbai
11 June 2018: Project Assessment at K. J. Somaiya College of Arts And Commerce.
Somaiya College invited Mr. Isaac Kehimkar for the project assessment of the refresher's course for teachers on ' Biodiversity Conservation and Sustainable Development' organised by UGC Human Resource Development Center, University of Mumbai.
17 June 2018: Monsoon Walk at Kharghar Valley
Our monsoon special trail received an overwhelming response. We got 44 participants who join our nature trail. One group was led by Mr. Isaac Kehimkar while the other was led by Dr. V. Shubhalaxmi. The walk was focused mainly on the landscape changes that happen during rains. It was an adventurous learning experience and rain made it all the more wonderful and enjoyable.
23 June 2018: Teacher
Training
Workshop at JBCN International School

Dr.Shubhalaxmi conducted two sessions during the Teacher Training Workshop at the JBCN International School, Borivali on 23 June 2018. Around 60 teachers attended these sessions. The topics were; Biodiversity Aichi Targets and Exploring Nature's Classroom.
24 June 2018: Nature Trail at Aarey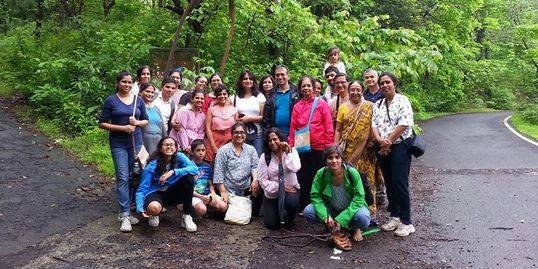 We conducted a nature trail for 25 nature lovers at Aarey colony. The trail started with a brief introduction about iNaturewatch Foundation and Aarey, and this was followed by an observation game. Further, the participants explored the area and learned about the flora and fauna of the place.
Bangalore
17 June 2018: Monsoon Walk at Muthurayanabetta
Our monsoon special trail at Muthurayanabetta was attended by 20 participants. The group led by Mr. Madhusudhan Shukla and Mr. Subramanyam Ramanathan. The walk was focused on monsoon special flora and fauna and landscape changes during rains. Participants thoroughly enjoyed the monsoon special walk with positive feedback.
Online Courses Updates:
The sixth batch of our Gardening for Wildlife Course started in first week of June. The participants have begun with their project work and field trips.
Click Here
to know more about our 'Online Courses'.
Our Reach
Since inception, reached 4149 participants! We thank you for supporting we have of our cause!
Media Coverage:
Mumbai Mirror:- '
Our Monsoon Walk at Kharghar Valley event was covered by Mumbai Mirror on 8th June 2018.