Forthcoming Eco-day
---
International Coastal cleanup day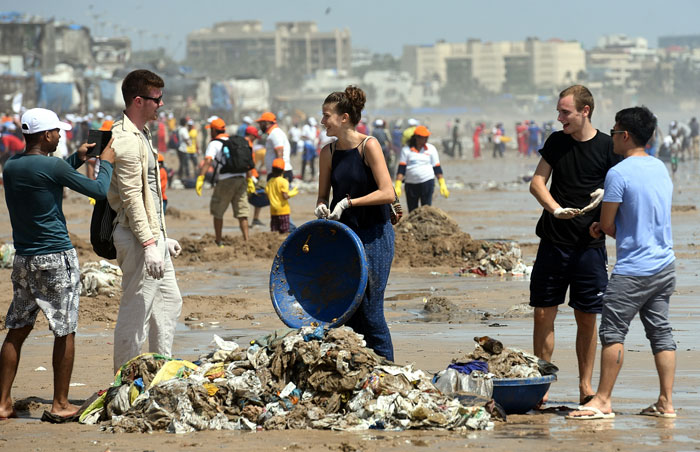 International Coastal Cleanup Day is celebrated annually on the third Saturday in September.
The International Coastal Cleanup began more than 30 years ago when communities rallied together with the common goal of collecting and documenting the trash littering their coastline.

Every year thousands of tons of garbage winds up in the oceans, with 60% of that being composed of plastic material. Plastics are in such abundance that there are 46,000 individual pieces of plastic litter for every square mile of ocean. Plastics are very hazardous to marine life, killing more than a million birds and over 100,000 fauna of our ocean.

Coastal Cleanup Day encourages us to get ut to our beaches and help to limit this problem by cleaning up the garbage that has washed up on shore, and that left by visitors every day.
-----------------------------------------------------------------------------------------------
UPCOMING EVENTS
BANGALORE
23 September 2018: Butterfly Walk at
Jarakabande
Kaval Reserve Forest

'Sliding Stone Tree Park' or Jarakbande Kaval Forest Reserves is the butterfly habitat, established on a 2 acres land which is attracting more than 30 different species of butterflies. We are organizing the butterfly walk where you will learn and spot the different stages of Butterfly's lifecycle on their host and nectar plants. You will also learn about the difference between nectar plant and host plant for the butterflies.
DETAILS:
Date: Sunday, 23 September 2018|| Time: 8 a.m.-10 a.m || Group Leader: Mr. Madhusudhan Shukla || Programme Fee: Rs.350/- per head [Register before 20 September and get Rs. 50/- off]. || Venue: Sliding Stone Tree Park, next to Foundation for Revitalisation of Local Health Traditions (FRLHT), 74/2, Jarakbande Kaval, Post Attur, Via Yelahanka, Bengaluru, Karnataka 560064
Click here
to register for the event.
NAVI MUMBAI
30 September 2018: Wildflower Walk at Kharghar
iNaturewatch Foundation is organizing a 'Wildflower Walk' at Kharghar Valley. Join us to learn all fascinating facts about these monsoon specials wildflowers, iNaturewatch Foundation has organized this unique walk. The path is undulating and terrain is covered with a range of monsoon special plants, the trail ends with waterfall view.
DETAILS
Date: Sunday, 30 September 2018|| Time: 8 a.m.-10 a.m || Group Leader: Mr. Isaac Kehimkar || Programme Fee: Rs.350/- per head [Register before 20 September and get Rs. 50/- off]. || Venue: Next to Convent of Jesus & Mary High School & Jr. College, Opp to Navjivan Hospital, Sector 6, Kharghar, Navi Mumbai.
Click here
to register for the event.
------------------------------------------------------------------------------------
PROJECT UPDATES
iNaturewatch Foundation proposed work jointly with DCB Bank which was approved in the month of August. In which we will create an open air butterfly Observatory for special children of Divya Vidyalay, Jawhar in Maharashtra and for the children of Yusuf Meherali Centre . We will plant 1000 butterfly attracting plants to create an open butterfly habitat into which the butterfly life histories could be witnessed by the students. We will conduct periodic plantation and butterfly assessment along with butterfly awareness programmes for the students. The DCB staff will be engaged in volunteering for the plantation, and habitat maintenance works throughout the project duration.
Online Courses Updates:
Chat session for Gardening for Wildlife:
Participants had a chat session scheduled on 18 August with Dr. V. Shubhalaxmi.
Our Reach
Since inception, reached 4401 participants! We thank you for supporting we have of our cause!
MEDIA COVERAGE
MUMBAI
Mumbai Mirror:-
Species of the Month
Geometrid

Moth Caterpillar
This photo was clicked by Mr. Rahul Khalkar, during the Insect Safari at Nagala Block, Mumbai on 2 September 2018.
Geometrid caterpillar resemble like a twig. The common name 'Geometers' is derived from the Greek word geo, meaning earth, and metron, meaning to measure, because their caterpillars seem to measure the ground as they loop forward. With no legs in the middle section of its body, a Geometer moth caterpillar moves in a looping fashion. It anchors itself with the rear prolegs, extends its body forward, and then pulls its hind end up to meet its front end. They feed on trees shrubs, ferns, lichens or fungus.
Send us your pictures taken during our trail/camp and the best photo stands chance to be featured in the next issue of iNaturewatch Foundation's newsletter.
PAST EVENTS


BANGALORE




12 August 2018: Explore Elephant Habitat
On the occasion of the 'World Elephant Day' in order to raise awareness about the largest land animal of India, iNaturewatch Foundation in collaboration with A Rocha Field Study Centre celebrated the day by exploring an elephant habitat and power point presentation by A Rocha volunteer on the outskirts of Bangalore. 15 enthusiast participants learnt about the human-elephant conflict.
MUMBAI
19 August 2018: Lecture on butterfly gardening development at Maharashtra Nature Park

Maharashtra Nature Park Society invited Mr. Isaac Kehimkar for conducting talk on the topic 'How to develop butterfly garden' for the 50 students of 'Dapolli Krishi Vidyapeeth'. It was interactive session in which students learnt about the butterflies diversity, and the difference between host plants and nectar plants.
NAVI MUMBAI

19 August 2018: Insect Safari at Nagala Block
We conducted our monsoon special insect safari in Nagala Block, Sanjay Gandhi National Park. Ms. Priti Choghale conducted the walk for 31 enthusiast participants with Ms. Preeti Dalvi. People joined us from the different parts of the city. The trail was full of insect action. Today was a hawkmoth caterpillar day. We saw varieties of huge hawkmoth caterpillars, spiders, moths, butterflies and other insects like grasshoppers and beetles. There were various wildflowers were flowering in the whole patch.
OTHER UPDATES:
Lecture on Urban Ecology:
We conducted lecture on the topic of urban Ecology and hydrology which was conducted by Dr. V. Shubhalaxmi, Mr. Isaac Kehimkar and Ms. Priti Choghle. The lectures was conducted for the
students of School of Liberal Arts at Narsee Monjee University.
Nature Education For Schools and Colleges in Mumbai and Navi Mumbai:
Nature education is best way to spread love for nature and nature-based outdoor learning is the best way to educate students. iNaturewatch Foundation conducts exclusively for schools students and college students where they can explore the flora and fauna in and around Navi Mumbai.
Know more
about 'Nature Walk for Schools'
Know more
about 'Nature Walk for Colleges'
Free Resources
Download iNaturewatch Mobile Apps

Educational Resources