Spring has finally arrived in Eugene/Springfield and seeing all the budding colorful blossoms brings joy to our spirits and hearts. At Bosch Nutrition, we are getting
excited
about the u
pcoming

Spring Term HEAL Program

which is scheduled to start April 11. Come join us at one of the two free info sessions this week on April 2 or 4 and bring your questions.

Also, if you have not had the chance to check out my new meal planning solution -

EatLove
- take a look. Over 500 brand new low FODMAP
recipes were just added in March.
EatLove is a fully customizable meal planning platform that makes creating beautiful, delicious, and nutritious meals for you and your family a breeze.
You just finished a great workout. Your endorphins are flowing, you challenged yourself to a new level, and you are proud of yourself for making your workout happen. Heading home you begin to feel a little muscle soreness. You wake up the next morning and you can barely move your legs and arms. You take a dose of ibuprofen and hope you can make it through the day.
We've all been there. While traditional remedies such as ice, stretching, massage and non-steroidal, anti-inflammatory drugs (NSAIDs) can certainly help alleviate muscle aches, the right foods can be powerful in helping increase recovery time and decrease muscle discomfort. This month I am sharing real life solutions to eating more anti-inflammatory foods that can speed up recovery and combat muscle soreness after an intense training session.
20 Meal Ideas to Combat Muscle Soreness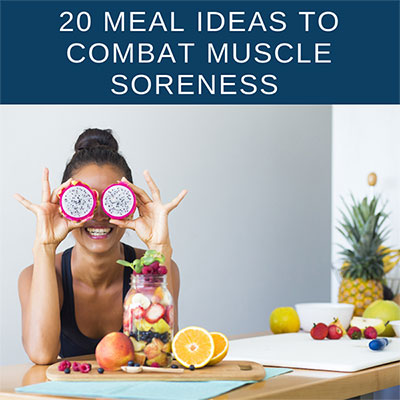 *For practical purposes, I am focusing on four foods that are known to decrease inflammation and sharing practical food solutions on how you can incorporate more of these foods into your daily routine. Read more about these anti-inflammatory foods in this month's article '4 Foods that Combat Muscle Soreness'.
Turmeric
Make turmeric tea by adding a pinch of turmeric with fresh lemon juice to hot water.
Try "golden milk", a traditional Indian drink made by mixing a pinch of turmeric with warm plant-based milk and honey.
Season your next soup or stew with turmeric.
Roast cauliflower with olive oil and turmeric.
Add a dash of turmeric to your morning tofu scramble.
Pineapple
Make a pineapple smoothie with kale, pineapple, ginger, and plant-based milk.
Add fresh or grilled pineapple to your salad, sandwich, wrap or even pizza!
Mix pineapple with plant-based yogurt as a mid afternoon snack.
Freeze pineapple slices for a frozen "dessert".
Eat au naturel! No need to do anything fancy, just slice it up and enjoy!
Brazil Nuts
Add chopped Brazil nuts to your morning oatmeal.
Pair Brazil nuts and pineapple for a pre-workout energy boost.
Mix chopped Brazil nuts with plant-based cottage cheese.
Make a salad dressing with Brazil nut oil.
Roast Brazil nuts with broccoli and a little olive oil for a delicious vegetable dish.
Note: While Brazil Nuts have many benefits - it is important not to eat too many.
Tart Cherries
Combine dried tart cherries with nuts and a handful of dark chocolate chips for a on-the-go snack..
Make a cherry "cheesecake". Take a half-cup of plant-based ricotta cheese, add a drop of almond extract, mix in frozen cherries and a drizzle of honey and sprinkle with crushed nuts.
Replace traditional sports drinks with tart cherry juice.
Add tart cherry juice to your smoothie.
Enjoy fresh as healthy snack or dessert!.
4 Foods that Combat Muscle Soreness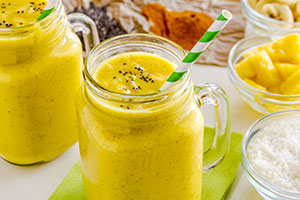 Pineapple. One cup of pineapple contains 131% of your daily vitamin C needs and is an excellent source of vitamin B6 and zinc. Pineapples also contain the enzyme bromelain, which really makes them stand out as a anti-inflammatory food! Including pineapple in your regular nutrition plan not only helps combat inflammation, but it can also help heal injuries, aid in muscle tissue growth and repair, and boost your immune system.


Brazil Nuts. These giant nuts contain a variety of healthy fats, vitamins and minerals and are associated with decreasing inflammation. In particular, Brazil nuts are high in the essential trace mineral, selenium. Selenium is known for its antioxidant properties that fight free radicals, helping to decrease inflammation associated with strenuous workouts. You can meet your selenium requirements with just one to two Brazil nuts a day.


Tart Cherry Juice. Many athletes are replacing their traditional sports drinks with tart cherry juice, and for good reason. Not only does tart cherry juice provide essential vitamins and minerals to enhance performance and speed up recovery, but it is also an excellent source of anthocyanin. Anthocyanin is the antioxidant found to fight inflammation and reduce muscle pain and soreness. While tart cherry juice is a little more sour than black cherry juice, the anti-inflammatory properties you reap are worth it!


Turmeric. In the world of sports nutrition and anti-inflammatory foods, turmeric may be one of the most talked about spices on the market. Curcumin in the turmeric root is not only responsible for its golden color, but also helps block inflammation.
Featured Recipe
Chickpea Curry with Tart Cherries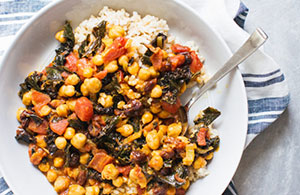 Ingredients
1 yellow onion
2 garlic cloves
3/4 cup dried Montmorency tart cherries
1 small bunch kale
2-15-ounce cans chickpeas
2 tablespoons olive oil
1 1/2 tablespoons curry powder
1 teaspoon turmeric
1 teaspoon ground ginger
28-ounce can diced tomatoes
15-ounce can full-fat coconut milk
1 teaspoon kosher salt
2 cups brown rice, to serve
Directions: Dice the onion. Mince the garlic. Roughly chop the tart cherries. Chop the kale. Drain and rinse the chickpeas. Heat the olive oil in a large nonstick skillet over medium-high heat. Add onion and saute 5 minutes, then add the garlic and sauté 1 minute. Add the curry powder, turmeric, and ginger and stir for 30 seconds. Carefully add the tomatoes and coconut milk. Bring to a boil, and then reduce heat to a simmer. Add the chickpeas, kale, cherries, and salt. Simmer for about 15 minutes until the kale is wilted and tender, and the curry is slightly thickened. Taste and add additional salt if necessary.
Serve with brown rice.
Recipe from Montmorency U.S. Tart Cherries and courtesy of Sonja Overhiser
Bosch Nutrition Services
HEAL-Program
Based on the four principles of Health, Empowerment, Accountability, and Learning, HEAL shows you how to
prevent, arrest, and even reverse a range of chronic health conditions. Dietitian Nutritionist, Thomas Bosch, guides participants successfully in reclaiming their health by reducing body weight, blood pressure, cholesterol, and blood sugar levels, while improving gut health, autoimmune conditions, and depression.
Discover what HEAL can do for your health at one
of the two FREE information sessions, online at www.boschnutrition.com/heal,
email thomas@boschnutrition.com
or call 541.844.7489.
Be Inspired
"We are what we repeatedly do. Excellence then is not an act but a habit." - Aristotle
About Bosch Nutrition
Bosch Nutrition guides you in achieving your optimum nutrition, health, weight, and wellness goals through personally tailored, evidence-based medical nutrition therapy (MNT) and meal planning emphasizing a plant-focused, whole foods approach, while specializing in diabetes and heart disease prevention & reversal, autoimmune disorders, intestinal health, eating disorders, and specialty diets (GF, FODMAP, DASH, Mediterranean, etc.).
Copyright © 2019 Customized Nutrition Newsletters, All rights reserved.